In 2014 we had the privilege of flying to Sabi Sabi in South Africa. Sabi Sabi has several safari lodges of which Sabi Sabi Earth Lodge can be considered one of the best safari lodges in all of Africa. As the time we were flying from Europe to South Africa in a small Piper Archer 3. Sabi Sabi was our destination on the way south.
Just last week, we visited Sabi Sabi Earth Lodge again. It was a short visit on our way from Pilgrim's Rest to Timbavati. This time, we flew a Cirrus SR22 G2 aircraft into their paved bush airstrip. You have to arrange ahead of time to land here, which we did. If you are interested in landing and or staying at Sabi Sabi, contact us using the form below. We can help you arrange with the landing clearance for Sabi Sabi and give you suggestions on where to fly that is of interest in the area. The airfield is easy to find as they have a designated ICAO code: FASE, which could be selected as our destination in the Garmin G430 device in the Avidyne-equipped Cirrus.
Approach runway 17 Sabi Sabi Airfield (FASE) with runway dimensions of 1500 x 18 meter. Surface: asphalt. Best is to sweep the runway first by making a low pass over the runway.
That way you can make more or less sure there are no wild animals left to meet on the runway while landing. Sometimes, impala or this time even some zebra stick around, so best to remain aware while landing!
Just after landing our Cirrus at Sabi Sabi there was a commercial flight about to arrive from Johannesburg. The commercial services fly passengers to several airstrips in the area such as Sabi Sabi as well as to Skukuza (FASZ). Only the passengers for Sabi Sabi are dropped off at the Sabi Sabi airfield for the plane, then to continue its flight to the next nearby airstrip. The arriving guests are welcomed by the Sabi Sabi staff. The airfield also has a very nice airfield facility where passengers can wait for their aircraft to arrive or before the game vehicles take after landing from the airstrip to the lodge.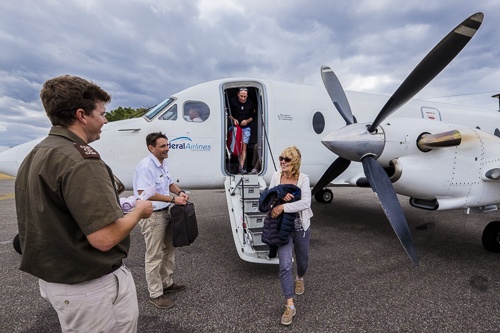 The airfield building has an open construction with no glass windows. It serves passengers well with a restroom facility, cold drinks and a place to sit and wait in the shadow.
Interesting to see some zebras running off while landing the Cirrus at Sabi Sabi. I have had impala as well as once a leopard on the runway at other airstrips in this area, so always be alert.
Staff from Sabi Sabi Earth Lodge welcomed us after landing and gave us a ride in their Toyota Landcruiser to the lodge. The lodge itself is about 5 to 10 minutes drive away with the game vehicle from the airstrip.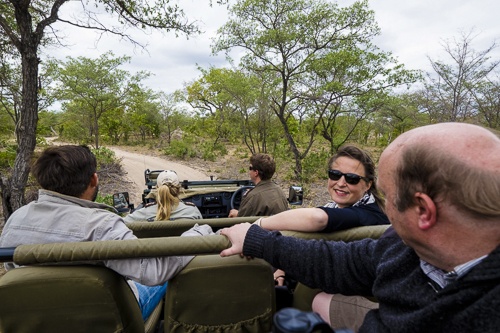 Sabi Sabi Earth Lodge
This lodge is special. Have a look yourselves at the pictures of the lodge below.
A welcome with a non-alcoholic drink on arrival.
The main area is all open. There are no fences around the buildings or the terrain.
When it is hot in the afternoon (depends on the season you visit), you can lunch or dine with your feet in the water. At night the pool even lights up.
Each suite has its own terrace and pool.
This bed and bathroom is part of the president's suite.
Nikon made a deal with Sabi Sabi, so the lodge and all suites are equipped with Nikon equipment. Guests can use it to watch animals passing by the lodge or their suite.
If you are interested in visiting Sabi Sabi or you would like to stay here as part of your flying trip through Africa, fill in the form below so we can be of help with getting the needed landing permission or passing on suggestions on where it is interesting to fly to in the area.
If you are interested in joining a guided self-fly adventure in Africa: https://www.africanflyingadventures.com
Sabi Sabi Information Form
Please send me more information about flying to and/or staying at Sabi Sabi, possibly in combination with other intersting destinations in the same area.