What's New
Our latest version of the flight plan app includes a lot of improvements and new features. We simplified the interface, fixed all known small bugs which were reported to us and thereby improved the stability and usability of the app. Besides this, we added a lot of new features. Here are some of the features we added:
We upgraded our IFR routing engine collaborating with Autorouter AG to create the best IFR routing engine available today from within our app for the Eurocontrol area;
We joined up with www.onlinegar.com to make it easy to fly into the UK and to comply with the Border force and customs requirements. Now you can submit your GAR form from within our app and we will remind you (push message) when you have to file a GAR form if you are preparing a flightplan that flies into the UK;
We now provide pilots with a professional 'Briefing pack'  and a set of 'Plates'  from within the flightplan app. You can generate these from within the app as well as a GRAMET weather briefing chart. The information is send in a PDF file to your e-mail address. You can keep them for further reference and proof of preparation and/or store them on your tablet or even print them out. Whatever you prefer.
We added Apple Watch support. Your Apple Watch will notify you of changes in the status of your current and upcoming flight plan(s). From your watch, you can file your flight plan, delay or cancel it or even send departure and arrival messages if you are flying from non-towered airports.
We added more possible reminders and push notifications to help and remind you to e.g. to close your flight plan or to file a GAR form for UK entry. You can configure which push messages you want to receive or not.
We integrate with autorouter.eu where you can prepare your flight plan with Autorouter and then move your prepared flight plans into our app for more on-the-go flexibility.
We included generic performance models for non-turbo, turbo, jetprop and jet aircraft. These performance models are used to get the most optimal IFR routes as well as a more accurate estimate in the en route time (EET).
We now a more robust support system right within our app with frequently asked questions and an option to contact us through a chat option. When we reply, you will receive a push notification to inform you. We also included 24/7 phone support.
We moved from a free app where you pay-as-you-go by buying credits to be able to file your flight plans to a basic free version with pro features offered through a yearly modest subscription. The IFR routing engine, the briefing pack and plates, as well as our 24/7 phone support, are features offered by subscription.
1. Better IFR routes (pro-feature)
This new version of our flight plan app was developed in close collaboration with Autorouter AG and brings you the best of validated IFR routes straight to your mobile iOS device. What we did is combine a search for validated routes using the Autorouter as well as our own search-engine and combine that with any results that Eurocontrol could possibly provide on the selected route with what we might have stored in our database as manually constructed and still valid routes. The results are then sorted in priority and presented to you in the app. The focus is on the Eurocontrol area as it is the area where validated routes are required.
You can view any of the presented routes while the app will continue to search for more optimal routes in the background. When you select a specific route, it is automatically integrated into your flight plan together with the correct en route time estimates. Check our separate blog post on the improvements we made on our  IFR routing engine.
If you have our Aviation Weather app installed, our Flightplan app integrates well and shows you immediately the weather forecast for your route and destination from within the flight plan app. Your flight plan subscription can also be used to activate the weather app pro-features.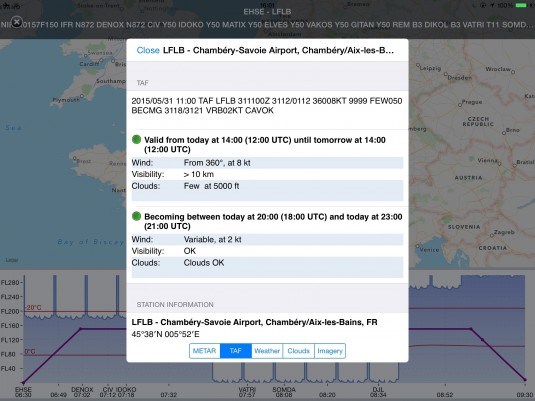 2. Onlinegar.com integration
We teamed up with the people from Onlinegar.com to ease the process of flying into the UK. Check out our separate blog post on filing GAR forms GAR forms.
3. Professional Briefing pack and Approach Plates (pro-feature)
Next to filing your flight plan and being able to check out the intended route and expected weather right from within the app, you can generate an extensive briefing pack for the planned flight, giving you instantly all the information you need in one PDF file. The PDF file can be stored on your tablet for later (offline) reference. A set of approach plates can be provided to you as well in the same manner as well as a Gramet weather forecast image.
4. Apple Watch integration
We added full support for the Apple Watch in this version of the flight plan app. Your Watch will inform you on the status of your flight plan, where you can leave your iPhone in your pocket to delay your flight plan, file it or to see the status of your filed flight plan right on your watch.

5. Better push messages
We now remind you to close your flight plan or file a GAR form by sending a push message to your iPhone, iPad and/or Apple Watch. You can configure what kind of push messages and reminders you want to receive or not.
6. Integration with Autorouter AG
Integration with Autorouter. Prepare your flight plan using Autorouter and then move your prepared flight plan to AeroPlus Flightplan for more flexibility on-the-go. Look on autorouter.eu within your account for Briefing Information > Route > AeroPlus Flightplan app > Download. Downloaded flight plans and send the files to yourself, then open them in AeroPlus Flightplan on your iPhone or iPad.
7. Aircraft Performance Models
We added support for 4 generic aircraft performance models being:
Non-turbo aircraft
Turbo aircraft
Jetprop aircraft
Jets
The performance models are used in finding the most optimal IFR routes considering (climb) performance and the general capabilities of your aircraft. Also, with the use of these generic performance models we are able to provide a more accurate estimate for the enroute time (EET, Estimated Enroute Time).
8. 24/7 Phone Support (pro-feature)
For subscribers to our PRO features and services we added 24/7 phone support for those instances where you are e.g. stuck on the apron and more or less ready to go but having problems with your flight plan. You will find the phone number of our Flight Service Center right in our app once your subscribe. We are ourselves aviators and love to fly. If there is anything we can do to help you prepare for your next flight, let us know.
As you can see, the AeroPlus Aviation Flightplan app offers you all you need to prepare for your next VFRR or IFR flight. Check out this app or other apps such as our AeroPlus Aviation Weather app from AeroPlus in the Apple AppStore.
AeroPlus Flightplan version 4.0 is currently available in the Apple AppStore. Version 4.1 should be available end October 2015.