New IFR routing-engine
The release of AeroPlus Flightplan App 4.1 provides you with an IFR routing-engine available on the market today for the Eurocontrol area. Starting development of our own routing engine in 2014 (see previous post), this latest release of the routing engine was developed in close collaboration with Autorouter AG. Validated IFR routes for your flights are now provided where other solutions simply fail. Search and find your routes straight from your iPhone or iPad. The routing engine utilises aircraft performance models to find the most optional IFR route for you, while still keeping it simple and effective at the same time.
Optimal Routes
This latest version of our flight plan app brings you the best of Eurocontrol validated IFR routes straight to your mobile iOS device. We combine a search for validated routes using our own routing engine next to the Autorouter route-engine, together with any results that Eurocontrol could possibly provide themselves on the selected route. In addition, we look at any stored routes in our database that might still be valid today. The results are then sorted in priority and presented to you in the app.
Sample Search For Valid IFR Routes
Below you find some screenshots of a search for an IFR-join (Z) flight from Breda International (Seppe) airport (EHSE) to Chambéry (LFLB). While our routing engine is pushing the first few possible routes to the app, you can preview the route by clicking on "Map" to see the route details. Our routing engine will continue searching for more optimal routes in the background while you look at the route options already presented.
After you select the route you prefer, you can have a look at the expected weather en route.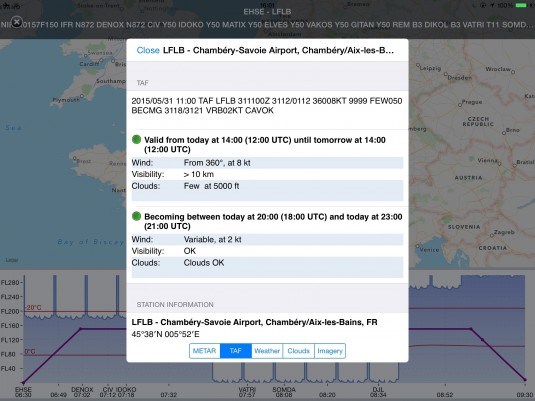 The routes provided are automatically validated against the CFMU-system of Eurocontrol and you can file the flight plan from the app directly to Eurocontrol to get instant feedback through push messages and in-app status feedback, even on your Apple Watch.
BriefingPack And Approach Plates
Next to filing your flight plan and being able to check out the intended route and expected weather right from within the app, you can generate an extensive briefing pack for the planned flight, giving you instantly all the information you need in one PDF file. The PDF file can be stored on your tablet for later (offline) reference. A set of approach plates can be provided to you as well in the same manner as well as a separate GRAMET briefing image.
Some of the other features of our flight plan app version 4.1 for iPhone|iPad are:
File GAR forms for Border Control and UK Police for inbound UK flights with ease from within our App;
Get Push Notifications informing you of status updates related to your scheduled flights and flight plans;
Get reminders to close your flight plan, file a GAR form;
Rearrange your schedule while en route and change plans accordingly;
Check the aviation weather while travelling;
Delay your flight right on the tarmac by sending a delay message from your mobile device or from your Apple Watch;
Send arrival messages for arrivals into remote airfields with no controller on-site;
Integration with Apple Watch gives you the option to file, delay or cancel your flight plan from your watch-face without having to take your iPhone or iPad out of the flight bag.
As you can see, the AeroPlus Aviation Flightplan app offers you all you need to prepare for your next IFR flight. Check out this app or other apps such as our AeroPlus Aviation Weather app from AeroPlus in the Apple AppStore.